It's crazy that you can feel the ribs underneath the skin!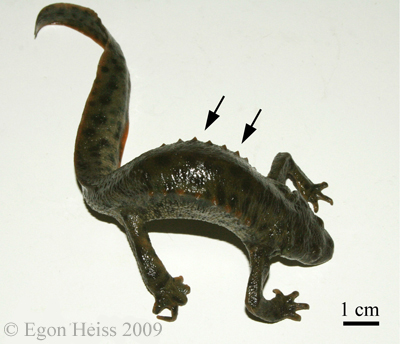 The arrows are pointing to the ribs that shoot out of small openings in the skin!
The fact that these guys shoot their ribs out of their skin as a defense mechanism is AWESOME, but that's actually not why I'm interested in them. I'm studying Iberian ribbed newts (
Pleurodeles waltl
) because they are one of the largest newts (reaching almost 12 in in the wild), and are primarily aquatic. While they can move on land quite a bit during migrations, they prefer to stay in the water.
Just hanging out before going to work!
My research involves evaluating how body morphology influenced the evolutionary invasion of land by vertebrates almost 400 million years ago, and involves using extant taxa to model the biology of fossil taxa. Salamanders and mudskipper fishes are often used to model the earliest tetrapods and tetrapod-like fishes since they share numerous morphological, physiological and ecological similarities. Previously, I studied how African mudskipper fishes (
Periophthalmus barbarus
) and tiger salamanders (
Ambystoma tigrinum
) moved on land, but these guys are normally pretty terrestrial (these mudskippers spend about 90% of their time out of water! Pretty cool fish, huh?).
The fossil record suggests that tetrapods (four-legged vertebrates) evolved underwater, so our earliest ancestors were aquatic. We have a better understanding of how more terrestrial amphibians move on land, but what about ones that are primarily aquatic? These Iberian newts will provide us with important biological information about how primarily aquatic organisms move on land, and how their morphology helps them to accommodate the different physical demands placed by the terrestrial environment. The data that we collect from these newts will be important in modeling the movements of some of the most important fossils during the water-to-land transition in tetrapod evolution!
Stay tuned to learn more!